Liverpool supporters have had a hard time of it on social media the past few months, with rival fans insisting they are only running away with the Premier League title due to VAR decisions made in their favour and against their opponents. 
The evidence wasn't really there in our November VAR table, with no net affect on Liverpool's points tally (though their lead was cut by a couple of points). 
But now … look away, Liverpool fans. 
ESPN and the team led by Dr. Thomas Curran at the London School of Economics have compiled the Anti-VAR Index, which shows how the league would look if VAR decisions were removed from games. 
However, we're not just removing goals here to get the amended results. That is far too simplistic. We've developed an algorithm that takes into account many factors, such as the state of the game at that point, form, performance and relative strength, then we've got a whole new set of results based on probability of outcome.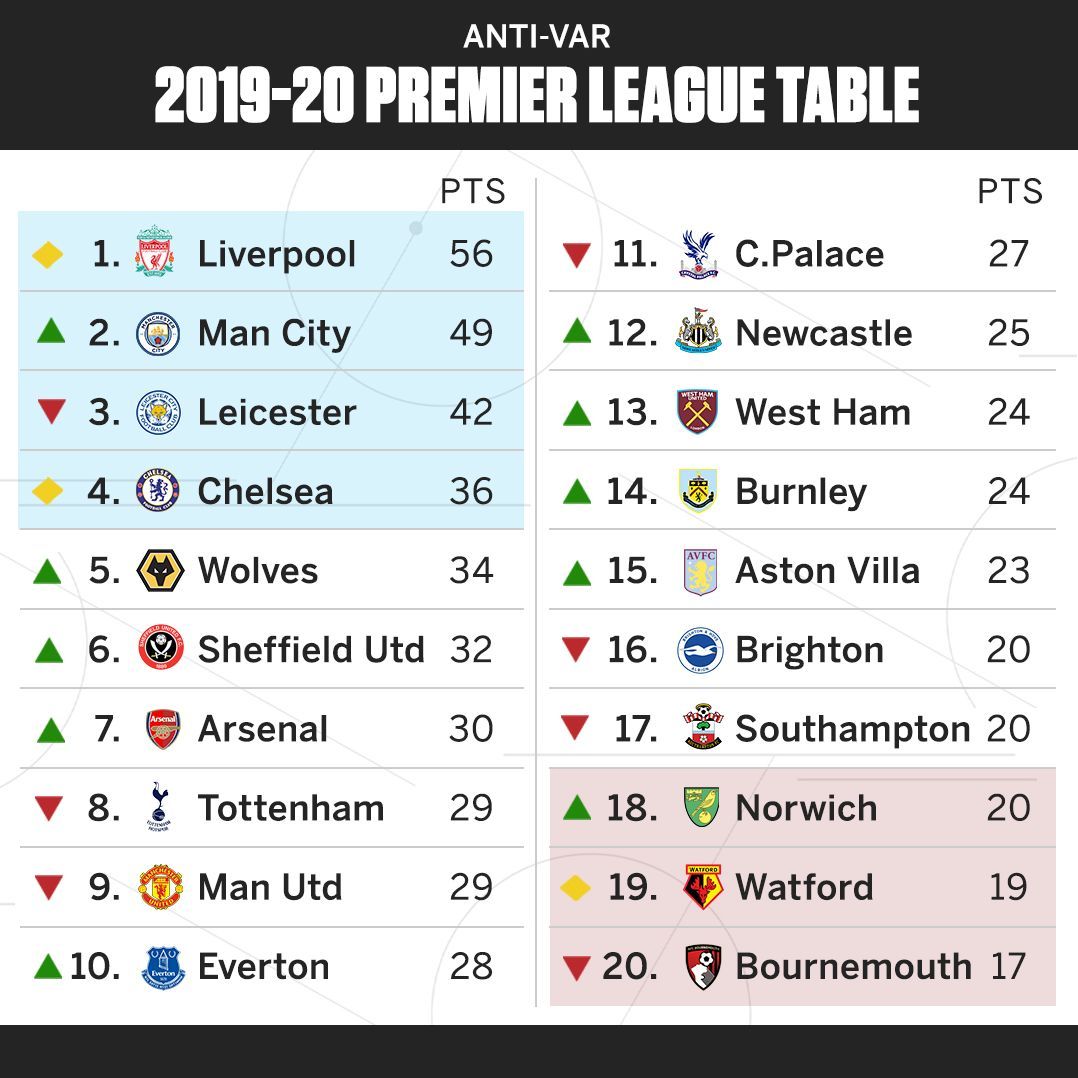 The latest results show that Liverpool's advantage over Manchester City is slashed in HALF from 14 points to seven points, reigniting a title race which looks to be all but over in reality. Their lead at the top of the table over Leicester is 13 points right now, but Man City climb above the Foxes in the Anti-VAR table. 
Our Index says Liverpool would have drawn away to Crystal Palace, dropping two points, if the Eagles hadn't seen a James Tomkins goal disallowed for a push by Jordan Ayew with the score at 0-0. 
But it's not just about what has worked for Liverpool. Manchester City have been robbed of FIVE points by VAR decisions, a tally only rock-bottom Norwich City can better with six. 
City see their home derby loss to United turned into a victory, as Marcus Rashford's penalty with the score at 0-0 is scrubbed out, and their early season draw at home to Tottenham would become a victory. 
The affect of VAR on Norwich is so acute that the additional six points sees them go from being cut adrift at the bottom of the table to up to 18th, only stuck in the relegation zone on goal difference from Southampton. 
Wolves get four points back, sending them up two places into fifth and within two points of unchanged Chelsea in the final Champions League place.
Arsenal – who have been the unluckiest team in the Premier League this season – improve three points and three places without VAR into seventh, just behind Sheffield United who gain three points too. Everton and West Ham also improve by three points. 
And that means there is a slip for Manchester United, who have been one of the beneficiaries of VAR — most notably against City and Liverpool — and slip four places to ninth after losing two points. Tottenham fall two places to eighth — a home loss to Newcastle becomes a draw but it's judged they should have lost at home to Watford in a game that finished 1-1.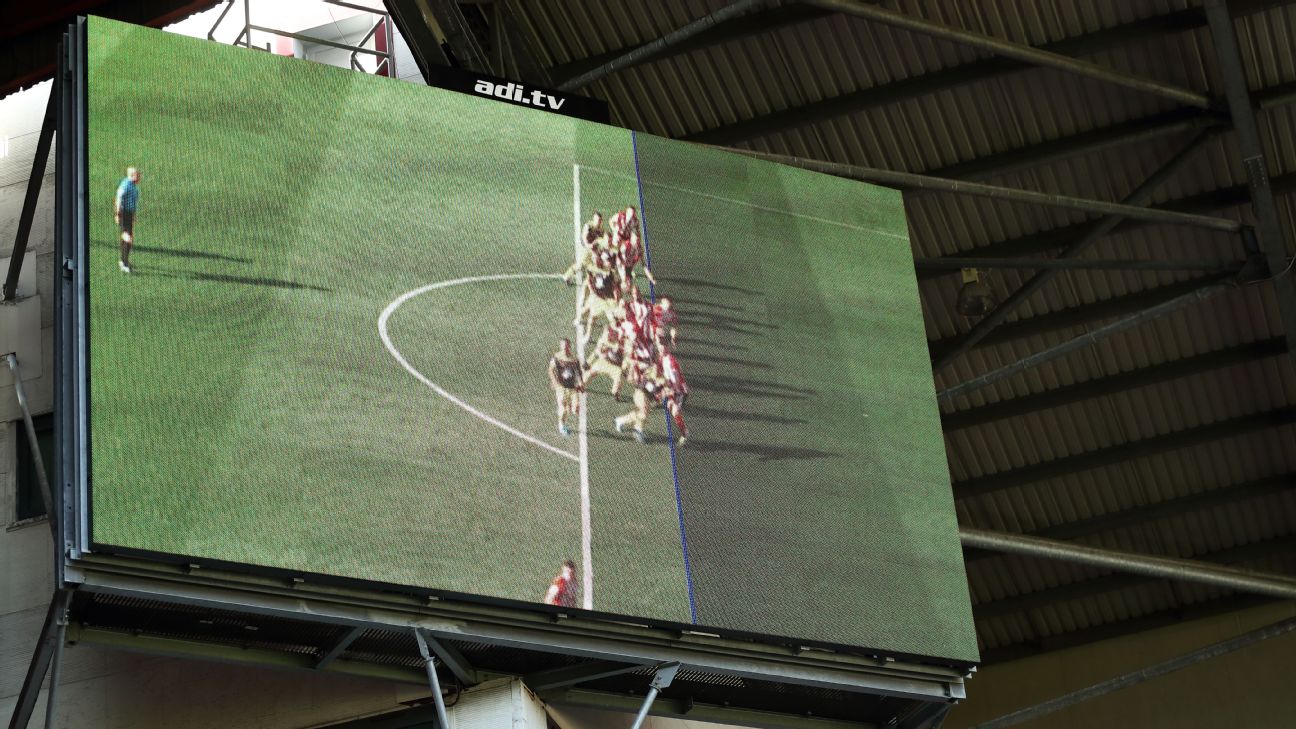 We're not sure what they have in the water down on the south coast, but it's been one big VAR party this season. 
The biggest winners have been Southampton, who sit five points and five places worse off without VAR. Their relegation fears are back, a situation which is mirrored in the Luck Index, so their season could be a whole lot worse!
Brighton come next, four points better off with VAR, which when deducted leaves them level on points with Southampton and Brighton. Then it's Bournemouth, who have gained three points. Take those points off Eddie Howe's team, coupled with Norwich's VAR rebate, and they slump to the foot of the Premier League. 
Only Leicester City can rival the south-coast trio in points gained from VAR, as they lose three to drop below Man City into third. 
Total overturns: 63
Leading to goals: 17
Disallowed goals: 34
Penalties awarded: 10 (4 missed)
Penalties retakes: 4  
Goals ruled out for offside: 24
Goals awarded after incorrect offside: 7
Goals ruled out for handball: 5
Goals allowed after wrong handball: 1
Red cards: 3
Overturned red cards: 2
Most net decisions: Brighton 5
Most net against: Sheffield United 6
Most involvement: West Ham 10
Most decisions for: Brighton 7
Against: Sheffield United 7
Only club yet to experience an overturn against: Newcastle
Fewest overturns in favour: Aston Villa, Newcastle, Norwich, Sheffield United, Wolves (1)