Conejo shines brightest amid Pachuca's young gems in Liga MX championship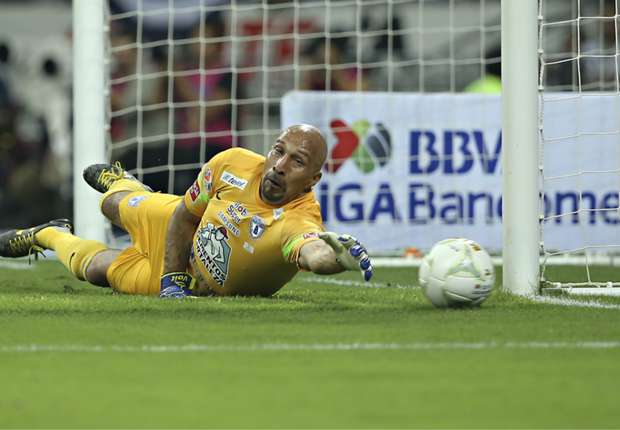 Jose Macias
The elder statesman of Liga MX has his second title after stealing the show from Tuzos' impressive stable of young talent in Sunday's title decider.
It's better to be lucky than good, but why choose? Oscar Perez is both.
The Pachuca goalkeeper was the Man of the Match in the second leg of the Liga MX final, making seven saves to keep Monterrey to just one goal. Victor Guzman's 93rd-minute strike eliminated the need for extra time, matching Dorlan Pabon's opener and handing Pachuca a 2-1 aggregate victory. The Tuzos are the champions of the Liga MX.
It's a team that has become famous throughout Mexico for developing young players. It's a reputation that's well earned, and you could see the influence of young players on Sunday's second leg. The 21-year-old Guzman came on to replace 20-year-old Erik Gutierrez. Hirving Lozano, 20, and Rodolfo Pizarro, 22, both won their first championships. The 23-year-old Stefan Medina helped Pachuca beat the Monterrey side he was loaned out from. These players have achieved a great deal of success early on. If there's anyone to counsel them that trophies don't come easy, it is Perez.
The goalkeeper, known as "Conejo" (Rabbit) won the second title of his career with his superb showing. The first came in 1997, when many of his teammates were more focused on learning to walk. It was the fourth year of the now-43-year-old shot stopper's career. Now, nearly 20 years later, he's celebrating another title. Conejo is not the type to toot his own horn.
"I'm happy. This is extraordinary, a great effort by my teammates, and that's it. Here's the result," he said. "We're all the heroes because everybody pitched in, everybody was out there and we're really happy."
El "Conejo" salva milagrosamente al Pachuca. https://t.co/n2MZSkN86U

— Univision Deportes (@UnivisionSports) May 30, 2016
Perez doesn't want to tak himself up? Fine. We'll do it for him. The fact that Perez at age 43 is still outperforming the majority of goalkeepers in Mexico says more about him than it does about the country's goalkeeping group. His reflexes are still sharp, something he showed on a double save in the first half. 
As you'd expect from a veteran like Perez, his positioning is still excellent. What he may lack in speed, he makes up for in savvy.
And, as he made apparent after the game with his comments, he's more than happy to pour advice into the young players who currently surround him. Those players deserve their due for a remarkable campaign. Many look bound for Europe after the title campaign. Lozano's six goals this season and his playmaking abilities have earned him a spot with Mexico in the Copa America Centenario. Gutierrez and Pizarro will be on show at the Olympics. No doubt they have loads of talent, and no doubt they've learned from Conejo.
It would be beautiful for him to ride off into the sunset, but for now that's not Perez's plan. What's beautiful to him is to keep playing the game he loves.
"I love to play soccer. I love what I do, and thank God I still maintain my fitness, and that allows me to keep competing at the highest level," he said. "I have a one-year commitment with the club. I'll try to fulfill it, and … that's all, friends," Perez continued.
So, that's not not all, folks. The oldest player to play a full 90 in Liga MX and the oldest player to lift a title is going to try to come back for more. Why not? He's lucky, he's good and he's a Liga MX champion once again.
Source: Goal – Liga MX