Juan Carlos Osorio: Mexico can win Copa America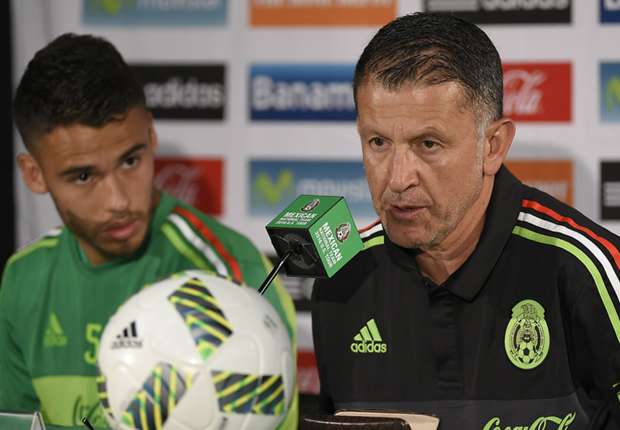 Etzel Espinoza
Speaking ahead of a friendly against Chile, the manager included his own side among teams that have the chance to win the Copa America
SAN DIEGO — Mexico manager Juan Carlos Osorio believes his team can win this summer's Copa America Centenario.
El Tri face the reigning Copa America champion Chile in their final preparation match for the tournament, which sees all CONMEBOL members and six invited CONCACAF nations hoping to lift the trophy.
"Chile has a great team with lot of opportunities and I reiterate my statement that it'll be a great opponent for us and it's going to have a very good level of play," Osorio said in a news conference Tuesday. "It's not a coincidence that they won the Copa America, and surely it'll be in the minds of the manager and players to repeat, but there are others with the chance to win as well, and I would include Mexico in that."
COPA AMERICA: CONCACAF Best XI | CONMEBOL Best XI | TV schedule 
Chile still boasts plenty of quality from the team that lifted the Copa America on home soil with players like midfielders Arturo Vidal and Charles Aranguiz, forward Alexis Sanchez and goalkeeper Claudio Bravo, who will arrive in the United States to join with the team on Wednesday. For Osorio, it's a great opportunity for Mexico to prove itself against one of South America's top teams.
"I think it's going to be an opportunity, like playing Paraguay, to face an opponent with elite players. Apart from Vidal, there's Sanchez, Bravo, Aranguiz, we could name almost everybody. They've got a great squad and surely they're really well coached," the Mexico boss said. "So it's going to be a difficult match and it's going to be really good for our preparation."
"Vidal agrees that Mexico will be among the contenders for the Copa America title.
"Mexico is going to be in the four strongest teams in this competition," he told reporters.
After Wednesday's friendly, Mexico travels to Arizona where it will face Uruguay in its Copa America Centenario opener.
Source: Goal – Liga MX