Osorio facing goalkeeper choice ahead of Copa America – or is he?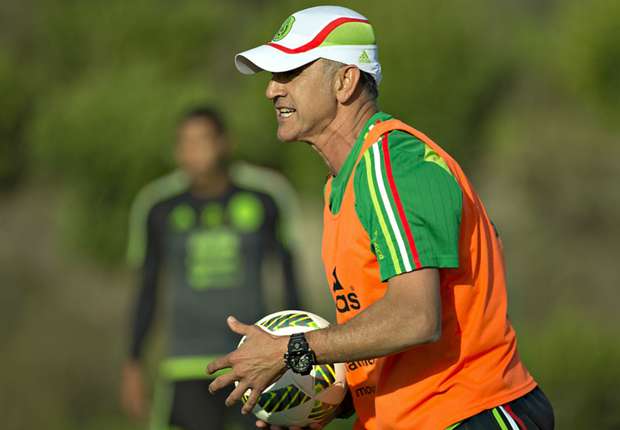 Etzel Espinosa
The Mexico manager has three capable goalkeepers to choose from, but instead of picking a starter he may choose to give all three a shot.
SAN DIEGO — Juan Carlos Osorio doesn't seem like much of a Rush fan, but the Canadian prog rock band has a message for him anyway.
When Geddy Lee sang "If you choose not to decide, you still have made a choice," he could've been talking about Osorio's apathy toward picking a starting goalkeeper ahead of the Copa America Centenario.
Guillermo Ochoa, Alfredo Talavera and Jesus Corona all are on the roster, and while the former two seem to have the inside track for minutes at the summer tournament, all three seem to be in contention.
"Just like in several other positions, we're going to try to give opportunities to the three goalkeepers," Osorio said before the friendly against Paraguay. "We think that one of the great virtues of the group is the competition, and we think everybody has the same chance to compete."
Osorio rarely looks like he isn't a man of his word. In Monday's training session in Chula Vista, California, Ochoa and Jesus Corona guarded the nets in the final group training exercise, but that certainly doesn't mean that Talavera won't be the starter. Mexico might not have a true No. 1 in the tournament, and maybe that's how Osorio wants it. 
It's too early to note any real pattern in his selections, and with Osorio's love of experimentation it would folly to project anything. It does seem like Osorio will rely on the strengths of different goalkeepers up against the different opponents Mexico will face in the tournament.
"For the first game, the aerial game is going to be super important, for the second a quick goalkeeper who is always playing and supporting the defense in the steady way we want to keep and in the third we'll see how we arrive," Osorio said.
Much like the battle between Ochoa and Corona heading into the 2014 World Cup, it might not matter all that much who starts in goal. Mexico has plenty of talent in net and also has a defense that doesn't allow too many shots to get through. Osorio's charges are still yet to concede a goal since he took over in November, and as much as it sounds like a platitude that has required a total team effort. If that can be bolstered by leveraging each player's strengths, it may be successful if unconventional.
For now, the players are buying into Osorio's philosophy. Why wouldn't you? He's yet to have a blemish on his record. If he wants to rotate his goalkeepers or change the formation and it continues working, who's to question it?
Despite the competition in the group, the chemistry is high. The players laughed and joked at the end Monday's training session, with Hector Herrera getting shoved down while coming in on goal and calling his own penalty among the jovial moments the players shared.
Winning games makes it easy to maintain those high spirits. Mexico won't always win ever game in the Osorio era, and the manager, a rookie on the international stage, will get his decisions wrong. But it's possible he can't err in choosing a goalkeeper with such a quality crop from which to choose.
Osorio may have made his choice: to not choose at all. Or he could have a No. 1 in mind, ready to pull another surprise in an era that's only just beginning but already has seen plenty of twists and turns. 
Source: Goal – Liga MX